I'm going to try and keep up with all the great internet april fools for 2010, and list them here! Enjoy!
Hulu's Secret Plan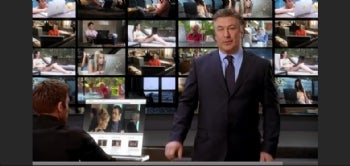 Head over to Hulu on April 1, select a video and you'll see an option to view content in 3D. You won't need those special glasses you snuck out of last night's Alice in Wonderland screening last night, but you will go through the looking glass to see the horrible truth about Hulu and television itself. It turns out there is scientific proof that TV really will rot your brain, and the entertainment industry is filled with aliens (of course we already knew that).
Reddit
Everybody's an administrator over at social news filtering site Reddit this April Fools' Day. Once you've logged in just turn your admin powers on (look to the right side of the screen next to your username), and enjoy your unchecked power. You can edit headlines, ban other users by clicking on the 'A' next to their names, and vote up stories an infinite number of times. Something tells me chaos is going to reign supreme on Reddit today. One thing that's not so funny is that this practical joke appears to publicly reveal specific users' IP addresses, creating a significant breach of privacy. I hope those IP addresses are fake, but it's hard to tell for sure.
Bieber or Die
Fans of the viral video site Funny or Die will be in for a shock this morning, as their favorite comedy site has caught Bieber fever. The entire site is designed around the teen pop sensation Justin Bieber, after the singer bought up the site as a tribute to himself. As Bieber says in a video explaining the switch, "anything that's not Bieber dies."
Google Goes Topeka
You've already heard about Topeka, Kansas renaming itself Google as part of a stunt to become part ofGoogle's municipal broadband project. Google has decided to repay that tribute by renaming the company Topeka. "We had a fair amount of brand equity tied up in our old name," Topeka explained in a company blog post, "But the more we surfed around (the former) Topeka's municipal website, the more kinship we felt with this fine city at the edge of the Great Plains." Topeka has even offered new phrases for the company name like "Before our blind date I Topeka'd him."
New sizes at Starbucks
Forget about Tall, Grande and Venti, Starbucks has two new sizes: Plenta and Micra. The Plenta is a 128-ounce drink for caffeine addicts who can't get enough coffee, and for those who need just a tiny sip, you can get the 2-ounce Micra. And don't worry about all that paper waste from the new Plenta sized-cup, Starbucks says you can reuse your gigantic Plenta cups in a number of useful ways including as a planter, lampshade or yoga block. TEXTp You've heard about high definition resolution like 720p or 1080p, but what about TEXTp. Every video you watch in TEXTp resolution creates videos out of random streams of text, kind of like ASCII art. YouTube says watching videos in TEXTp helps save about $1 in bandwidth costs. Check out a sample below: Google Translate…for animals Google has been coming out with so many cool mobile applications like Google Goggles that uses an image as a search term. Now there's Google Translate for Animals from Google UK? Just open the new app on your Android device, select the animal language you need to translate, then record your dog's bark cat's meow or pig's oink. You device will then translate those sounds into something humans can understand. Google says the application can only translate into English right now, but more languages should be coming soon including Pig Latin.
Wikipedia
Wikipedia English is full of trickery today with featured articles on the front page about the ancient English practice of Wife Selling, as well as strange but true news about a certain Japanese company that accidentally sent some of its customers back in time to 1999.
Hadron II
The Independent is reporting on a plan to bring a second Hadron Collider to London, England. But instead of building new underground tunnels to smash particles in London, the plan calls to turn the Circle Line of London's subway system into a particle accelerator. However, health and safety advisers are concerned about a "mini black hole being created at Westminster [home to the British government] when the two proton beams collide to recreate the conditions of the Big Bang." The original Hadron Collider is located near Geneva, Switzerland, and scientists hope to use the machine to recreate the conditions of the Big Bang that gave birth to our universe. Qualcomm
Device and chip maker Qualcomm is getting into the April Fools' spirit by confronting reports about people being "savagely attacked by butterflies." The problem is reportedly related to Qualcomm's prototype Mirasol displays that "mimic the way butterfly's wings reflect light" to make mobile displays more energy efficient. The vivid colors found in the displays apparently triggered the butterfly aggression. Check out this video on Facebook to learn more. Above are from: http://www.pcworld.com/article/193113/top_10_april_fools_day_fake_news_items_for_2010.html

WholeFoodsMarket
These action figures are pretty freakin funny! http://www.wholefoodsmarket.com

Easy Project .Net
Easy Projects .NET switching from web-based project management to paper-based SaaS (software as a stationery).
No Computer? No Internet? No Problem.Web-based project management software relies on computers and an internet connection. Paper-based project management stationery, also known as SaaS (Software as a Stationery), relies on pens, or pencils for that matter. And everyone has those. http://www.easyprojects.net/index-april.asp

Cloud Computer Forcast
Austin, TX – atsec information security today announced the introduction of a new, revolutionary service that will make cloud computing more predictable. atsec's cloud computing weather forecast service will provide an early warning system for administrators and network technicians. http://www.atsec.com/us/news-weather-forecast-for-cloud-computing-192.html
http://www.vscon.com/april-fools-2010-wiki/
From The Onion
Add any more I missed down below!
Leave A Comment: